Starting with the co-main event, Mackenzie Dern controlled the action right away and was implementing a non-stop pressure and aggression that left Medeiros with no space to breathe early on. The size difference was evident and Dern was less wild with her striking than in her previous bouts but her punches were still fairly predictable and wound up when thrown. It didn't really affect her path to victory though, as Medeiros was unable to effectively create space at any point. She hit several trips on caught kicks to the body and avoided the lethal ground game of Dern for most of the fight…minus the end of round two where Dern had the mount and was dropping bombs. And then the very end of round three where Dern got a mount once more and quickly slapped on an armbar that forced Medeiros to tap.
The story of the fight was easily the pressure and aggression from Dern and regardless of whether it was super pretty or not, she got the win over her biggest challenge to date. It will be interesting to see what the future holds for the six-time Brazilian Jiu-Jitsu world champion.
Mackenzie Dern vs Kaline Medeiros #InvictaFC26 @TheMMALAB @BensonHenderson pic.twitter.com/V6UlTWeq3c

— Zombie Prophet (@ZPGIFs) December 9, 2017
In the main event, the Flyweight champion, Brazil's Jennifer Maia took on Polish challenger, Agnieszka Niedzwiedz. The first round was close and competitive as each displayed their technical striking. Each threw strikes at just about the same time with each that was thrown. Towards the end of the round, the challenger, Niedzwiedz caught a body kick and landed a big right hand that dropped the champion where she followed her to the ground trying to finish before the round ended but was unable to. Immediately as round two started each fighter came at one another and Niedzwiedz landed hard, visibly stunning Maia as she stumbled around the cage trying to avoid punches before finding an opportunity to clinch.
Maia broke off the cage and started to unload with punches of her own but to minimal effect on the 22-year-old challenger. At this point, Maia had recovered and appeared more energized as she began to push the pace and control the action. Going into the third round, it was tough to determine whether or not we were all tied up due to how much the judges may have counted the beginning damage Niedzwiedz did in round two. Niedzwiedz hit a takedown around the mid-way point of the third round and found herself working from half guard with Maia searching for armbars until about the final minute of the round. One area to note was the clinch for Maia. She was completely dominant when engaging in the clinch, grinding her head into Niedzwiedz' head and controlling her with ease.
One of the biggest questions going into this fight if not the biggest question was whether or not Niedzwiedz could hang with the champion in the championship rounds. We got our answer. The two exchanged a few strikes in the first minute of round four before Maia found the clinch once again and just crushed Niedzwiedz against the cage wall with her pressure. As the round went on, Maia started to really get her knee strikes going, landing them to the thighs and mid-section. Niedzwiedz found a brief opening and landed a big elbow that got Maia's attention and briefly gave Niedzwiedz clinch control for once.
Niedzwiedz showed no major signs of fatigue going into the fifth and final round. Regardless, Maia was still the fresher of the two and landing better throughout. Niedzwiedz' punches had lost a bit of their steam as did the rest of her game as seen when she attempted a takedown that Maia easily stuffed. The ninety-second mark struck and Niedzwiedz was starting to find her jab again before shooting for another takedown that was defended again by Maia. Both fighters started to let loose and just try and land punches as the clock wound down but no finish came to fruition. The champion, Jennifer Maia successfully defended her title for the third time as she defeated Agnieszka Niedzwiedz by unanimous decision(49-46 all on the judge's scorecards).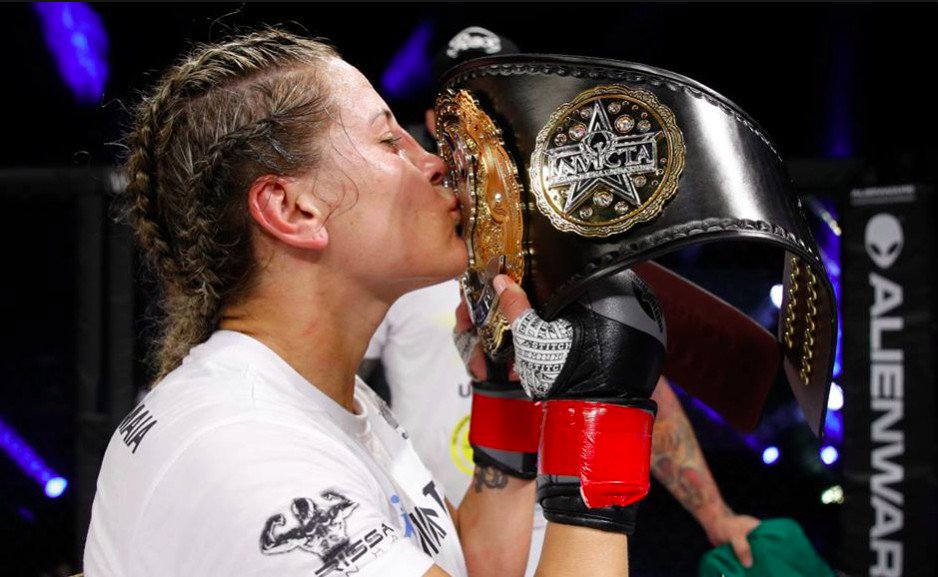 The rest of the night's results:
Janaisa Morandin def. Kinberly Novaes via unanimous decision (30-27 All)
Vanessa Porto def. Milana Dudieva via RD3 TKO (Body punch) at 3:02
Virna Jandiroba def. Amy Montenegro via RD1 Submission (Armbar) at 2:50
Amber Brown def. Tessa Simpson via RD1 Submission (Armbar) at 0:50
Katrina Rodriguez def. Christine Ferea via unanimous decision (30-27, 29-28, 29-28)
Kay Hansen def. Emilee Prince via RD1 Submission (Armbar) at 1:23
This article first appeared on BJPenn.com on 12/8/2017
The post Invicta FC 26 Results: Dern Wins Promotional Debut, Maia Retains Title Against Niedzwiedz appeared first on | BJPenn.com.